Archive for the 'humor' Category
OK so I have some things to work out with  myself here today. I'm having one of those days where the busyness of the last few weeks has completely crept in and taken over. I suddenly feel pushed to my margins and had to call out an S.O.S. to my mom to help me or I was going to lose my mind…or someone else was going to lose an arm or other important body part. Someone was going to lose something.

So if you know anything about the "blogging world" (which I really don't), there is a common thing called guest posting, where you write a story for someone else's blog OR they write a story for yours. Today my 2 year old son Grayson will be my guest post.  Now…obviously he can't type, so I will provide the technical skills while he provides ALL the creativity.
I was rocking him a couple of nights ago, and we were telling each other stories. THIS was Grayson's story that evening. I can't really think of a fitting title to really capture it all. So we're just going to get right to it. (OH and I want to send a shout-out to my girl Kate K. – You're gonna love this one

)
Once upon a time there was a kitty cat named Lucas the Pig. And the Kitty Cat went swimming and swimming in the water. But he had a helmet on. So he wouldn't get water in his nose and eyes. And he swam real good. And then when he got out, he dried off with a towel and had lunch. A peanut butter sandwich. But he didn't have any arms. He ate the sandwich with his feet. And later his ears hurt and it was OK. But he still didn't have any arms.  The end.
 THAT is the best story I ever heard. Thanks Guest Post, Grayson!  After reading it back, I'm thinking maybe the title could be "Lucas the Pig the Kitty Cat Goes Swimming: Adventures at Lunch Time with Helmet-Wearing, No-Arm, Pig-Cats.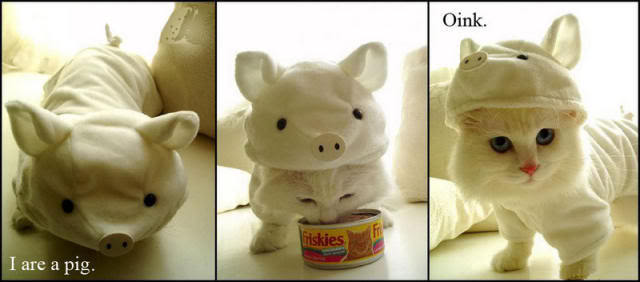 For those of you who read my temper tantrum, you know the intimidation factor that exists for me with my kids' pediatrician. He is a "by the book" kind of guy and dishes out ALL the textbook advice that you read for yourself on the internet but don't really want to do. It's one thing when you're skimming over an article at babycenter.com, but when you're listening to a living, breathing advice-giver (who makes eye contact and has a 'judge-y smirk') it's much harder to admit you think he's full of it.
I don't always even think he's full of it. Sometimes I think his advice is really right on. But sometimes I just want to grab him by the stethiscope and say…"STOP PRESSURING ME!!!! I'm doing the best I can!!!" Even if it IS good advice, it doesn't mean I can DO IT. Come on, man.
Anyway, he's always been one to "encourage" parents to teach their kids to fall asleep on their own. I wont' bore you with all the reasons why, but he's really against pacifiers at bedtime…or bottles…or being rocked to sleep (not me, the baby).  Ever since my first child was born, I have had to come face to face with this question EVERY appointment for EACH  and EVERY kid. Read the rest of this entry »

I HATE my dishwasher sometimes. It's so weird. I know this is like one appliance that I'm supposed to be in love with, but there is just this tension between the two of us that I can't quite put my finger on.
Like the whole idea of a dishwasher is great. You can just throw your dirty dishes in there and push a little button and voila! Clean dishes for all to enjoy.
But, just like your kids, sometimes your dishwasher doesn't operate exactly according to the function for which it was created. As we all know, you really do have to halfway-clean your dishes before you even put them INTO the dishwasher… but I don't think that's even what bugs me really. I've kind of learned to deal with that.

For this post, I thought I'd just share some recent photos from the Life of Motherhood. 
To start things off, all I have to say for this first one is WHY…  
---
Next, we took some lovely pictures outside this past Easter. This one was the winning shot….  
 BUT before we got THAT shot, we got THIS one….  
---
When I was a little girl, I used to "do" my mom's hair. I put every hair-bow and barrett I owned on her head. She must have been too scared to seek revenge on ME…so she went after my daughter.  
---
I thought I only had to worry about this problem with my husband….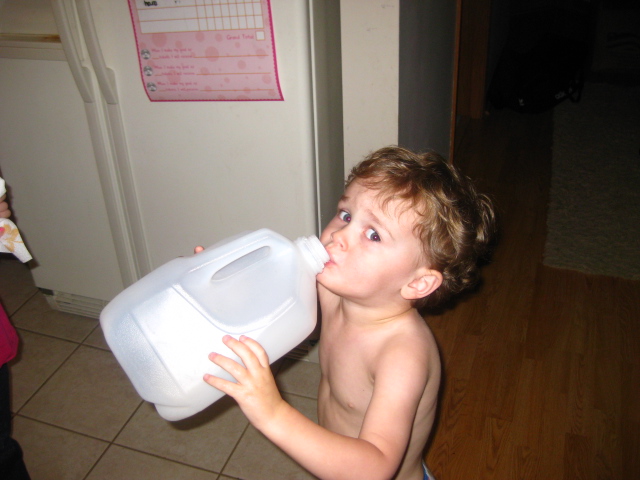 ---
 Trying to get a cute, CANDID shot of them during our last spaghetti dinner…wonder where they get their sense of humor from…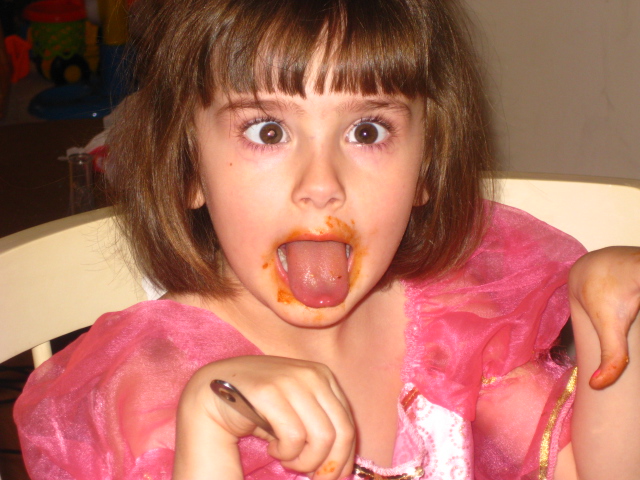 The Boy seems to have the same disease…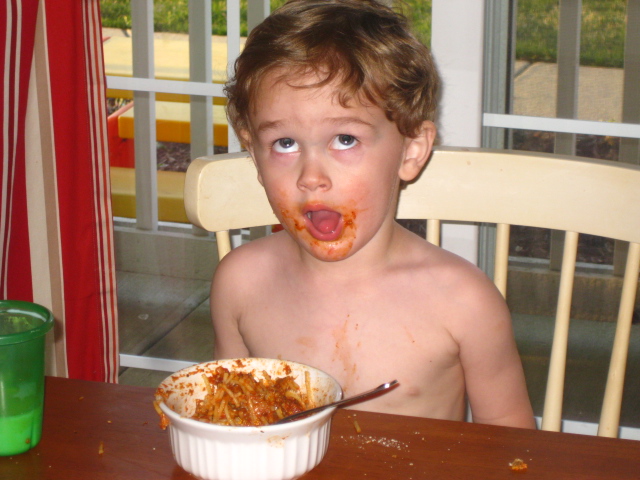 ---
And finally, I'd like to send a quick shout out to Ryan Phillippe. Ryan, we have your kid. To get him back, please pay us 1oo billion dollars.  
Happy Friday everyone! 
(And by the way, has anyone EVER seen Ryan Phillippe's teeth? Someone needs to go tickle him.)

So it has been  a long day of dealing with a teething baby who ALSO seems to have a cold (or is the snotty nose a symptom of teething?) who ALSO seems to  have a stomach bug because he's thrown up / spit up like 5 times today…OR is that a symptom of the snotty nose (which may or may not be a symptom of teething), which makes him cough and subsequently makes him throw up?!
Oh my, I need a nap. The point is, it's been a rough day…one of those days where you're person-hood almost gets lost. You know what I'm talking about? Not that motherhood isn't ALWAYS, to some extent, all about giving yourself up for another human being…but there are some days when it's pushed to the MAX. Like you go into some alternate universe where you forget to eat, breathe, even PEE, because all you can think about is getting your little one to feel better.  Read the rest of this entry »

OK so a quick disclaimer before I begin my post:  to the few men who find my blog humorous and like to "peek in" on conversations among moms, I support you and welcome you here. However, today I am requesting that my male readers (ahem, particularly my DAD) skip this one. I'm going to be talking about things that happen during and after pregnancy and well, let's face it – there are just SOME things that we don't want our fathers privy to…I would rather  instead that he protect the image seared in his mind of me as a four year old little girl. So Dad, you and I can part ways here.

For the rest of you, I just want to talk a bit today about what the HECK happens to your body after pregnancy. Did anyone tell you things could go so terribly wrong??? I mean, sure, we all knew about the stretch marks or additional baby weight…or for some of us, the "mom pooch" that never goes way. BUT…have you guys discovered yet for yourselves all of the weird and heinous things that happen that NO ONE ever talks about?? There must be some sort of secret pact that prevents women from just coming out with this information in public because I was CERTAINLY never informed!!! Read the rest of this entry »

"Be sure to savor every moment – it goes by so fast!"
How many times have you heard this advice? If you're a mom, maybe you feel like you are walking around with a sign on your forehead that reads "I'm living life in a complete blur and can't remember my kids names. I spend about two minutes every day with my kids and four thousand hours doing laundry. I think my kids will be little forever, and I completely take them for granted. What advice might you give me?"
I feel like I must be wearing a sign like that because I get that advice OFTEN. I KNOW it is well-intentioned, but I just have to say a few things about this today.  Read the rest of this entry »

So…life with a new born, a toddler, and a pre-schooler has been a whirlwind. I've heard varying opinions on the subject, but I would definitely say THREE is a whole lot different from TWO. Suddenly I found myself looking around at all of these little people and thinking:
"Dang, there sure is a lot of them". Read the rest of this entry »