Archive for the 'Writing' Category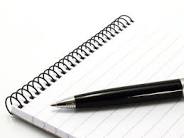 So it's been like 147 years since I've written. Apparently, I took an unintentional extended vacay…and many mini-vacays before that.
So much has happened  in the past few years. We moved again. My three big kids are all in school full time. And…they are called "big kids" now because we added ANOTHER baby to our family.
I am being reminded why I started this blog in the first place. And it's basically because babies make you nutso and writing helps me cope. And I do love it. Like a lot.
And I hate it a li'l bit too.
I've been wondering for a while why it's gotta be such a love/hate thing for me.  And why the "hate" part took over and caused me to hit the pause button for so long.  There are probably many little reasons I'm unaware of, but here are the Big Few.