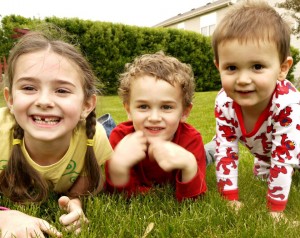 So I decided I'm boycotting Mother's Day next year. Can I do that?
Here's the reason. For two years in a row now, I've had a less than stellar Mother's Day. I know, I know…how is that possible when you have the best family on the planet?!
Well I can start by telling you what is NOT to blame. It has nothing to do with all that mumbo jumbo about having unrealistic expectations in regards to holidays. You know the whole idea about how we women put so much pressure on the day that it inevitably fails to live up to our high hopes?
No, no …THAT is a rookie mistake that only newlyweds make. It only took me a few years to learn that you're not supposed to expect too much,…that way you can be really knocked out when something goes awesomely.  Once I let go of hopes that my husband would hire someone to skywrite, "You're the world's best mother" across the horizon during a sunset dinner, things began to go much more smoothly.
So that's not the problem. The PROBLEM is that life does not care what the calendar says. Apparently, all of the things that make ANY day a bad day can happen any time, including on holidays. Things like, oh I don't know, being overtired, having cranky kids, getting behind in laundry, housecleaning, and yardwork…and really wanting to hang out with your family, but secretly wishing you could just take a nap.
As nice as it would be for the universe to refrain from dishing out my serving of "bad day" until after a holiday has passed, sadly it does not. And for two years in a row now, I experienced a very "normal" bad day that just so happened to fall on Mother's Day. Now we have a problem. Experiencing a bad day on Mother's Day can make us feel really ripped off as though the universe isn't cooperating. Does it not understand that this is MOTHER'S DAY?! I only get ONE DAY A YEAR for crying out LOUD!
So THAT is the reason why I have decided to boycott Mother's Day. I'm through with trying to put it in such a little box, because it's too big to fit there anyway. Instead, I think it makes more sense to look for Mother's Days all along the way. Like in Alice in Wonderland where they celebrate "un-birthdays".
Perhaps I'll be surprised when it shows up next week when my daughter tells me I'm "the best mommy ever" for no particular reason. Or maybe it will be when I catch my son sleeping in just the right position so I can see his lips all scrunched up, and he's in a deep enough sleep that I can kiss him without waking him up. Or when my kids do something hysterical and crack me up just when I need it most. Or eat their vegetables.
Or maybe Mother's Day will be this winter, when we have a picnic under the dining room table because it's  freezing outside…and my husband takes my hand and says, "Thank you for being the mother of my children…you really do rock".
Yep. I'm pretty sure we're all selling ourselves short if we focus on just one day a year. So let's not. There are too many great days out there that will qualify as a Happy Mother's Day. Let's soak 'em up so we don't miss a single one.
Who cares what that stinkin' calendar says?